Romanticism, Academism, and Realism
Episode #6 of the course "Art Movements Throughout European History"
At the end of the 18th century and into the beginning of the 19h century, especially throughout Germany, Spain, and France, artists revitalized a more Romantic style of art. Romanticism is a description for art that tends to depict "Romanticized" versions of life. While focusing on themes surrounding abstract concepts like truth, beauty, justice, or love rather than specific stories or depictions of historical events, Romantic artists also focused on the emotional aspects of their art.
Liberty Leading the People, Eugène Delacroix
The Rainbow, Ivan Aivazovsky
One of the darkest but most influential Spanish artists of this movement was Francisco Goya, responsible for emotional paintings such as Saturn Devouring his Son and The Third of May 1808:
Saturn Devouring his Son
The Third of May 1808
As a reaction to Romanticism, Academism revives and studies the classical techniques of masters in a precise and technical way that seeks to replicate the specifics as many times as possible. Precision and adherence to original detail become more important than inspiration and creativity, and these artists preferred a study rather than a muse. Popular from the 17th to the early 19th century, Academic artists attempted to separate themselves from other artists, and the achievements of John William Godward and Alexandre Cabanel reflect the talents of the age.
The quiet pet, John William Godward
Birth of Venus, Alexandre Cabanel
Realism is a movement in art to depict reality. It often focuses on colors, shadowing, blurred and curved lines, and softer use of perspective that may be asymmetrical. As a reaction to the Romantic and Academic styles, Realism enjoyed popularity throughout Europe and the United States in the 18th and early 19th centuries. Realist painters focused on a variety of secular and "earthly" subjects such as portraits, animals, and landscapes. Some of the greatest painters of this age, including Jean-Francois Millet and Thomas Eakins, depicted scenes of the ordinary lives of modern people.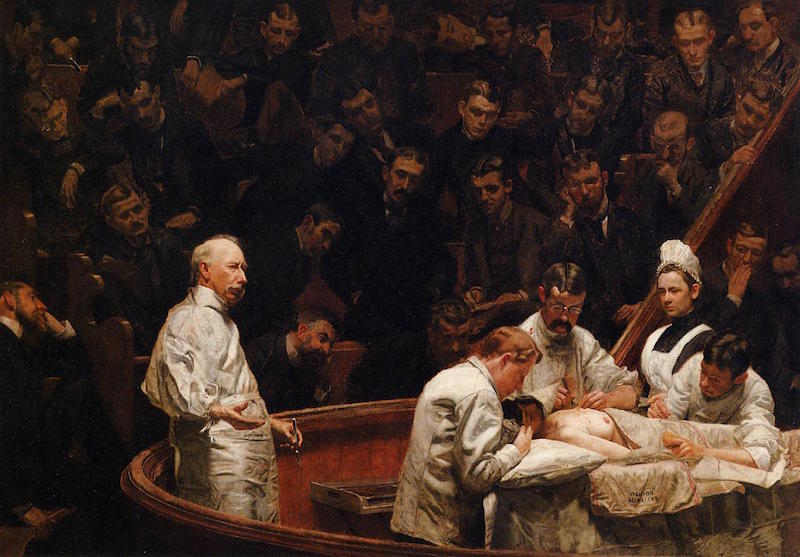 The Agnew Clinic, Thomas Eakins
The Wood Sawyers, Jean-Francois Millet
Share with friends