Frank Gehry
Episode #7 of the course "Architects who changed the world"
Canadian-born Frank Gehry knew from a young age that he was interested in design and building construction. After a career spanning over 30 years, Gehry has come to be one of the most innovative architects of the 20th century. A major name in Postmodern or Deconstructivist architecture, Gehry's designs do not hold true to the "form follows function" mantra of design in the 20th century. Instead, Gehry seeks to unnerve, inspire, and affect the viewer with a psychological awe. Not only do his designs make the building space efficient and beautiful, but Gehry injects a playful feeling of whimsy with his unexpected elements.
Walt Disney Concert Hall
Dancing House, Prague
Gehry is known for designing some large-scale construction wonders that dramatically stand out from their surroundings, rather than incorporating the building naturally into the landscape. Designs range from the sharp Walt Disney Concert Hall in Los Angeles and the wavy skyscraper at 8 Spruce Street in New York to the whimsical Dancing House in Prague. At times, using angles and platinum coating (such as in his famous Guggenheim Museum in Spain), Gehry makes sweeping, curved lines work together (the Louis Vuitton Foundation building is one example). At times his work is said to have an "unfinished" quality, which is integral to the 20th-century California "funk" art movement, as well as the Deconstructivist objective of taking apart an artistic ideal to expose its inner workings.
8 Spruce street, NY
Guggenheim Museum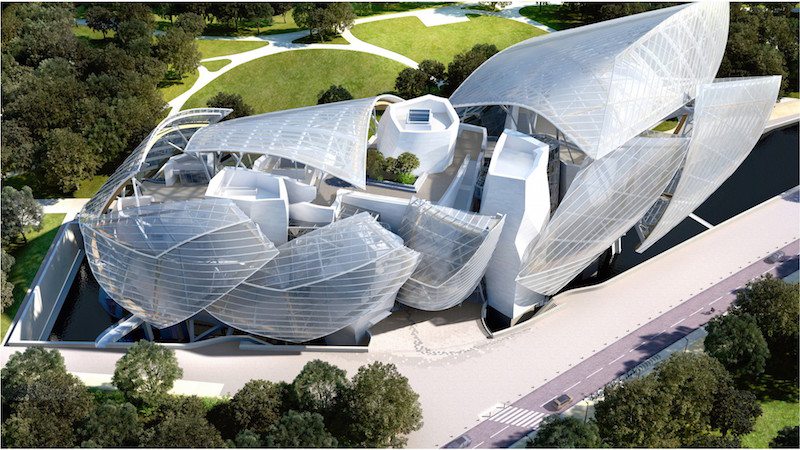 Louis Vuitton Foundation Building
Having been awarded the Pritzker Prize for Architecture, Gehry is one of the most highly-demanded architects in the world. He has projects ongoing for the new world headquarters for Facebook, as well as for the National Dwight D. Eisenhower Memorial recently approved by Congress. His talents are used for both public and private spaces, the most famous of which may be Gehry's own residence in Los Angeles.
Gehry House, Santa Monica, California
Share with friends